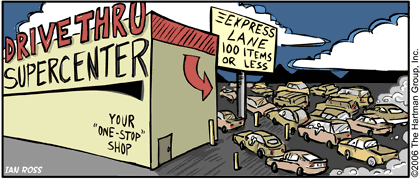 Let me preface this all by saying before I had my son I had no problem making a quick run into a store and it really didn't bother me to get out of my car to run errands, but now with a baby I really think everyone should have a drive-thru. I would probably be contributing a lot more to our economy if I didn't have to get out of my car to shop.
Since having W, my shopping trips are at least 15-25 minutes longer. It takes forever to get him in and out of the car. Each and every time we get out of the car I have to put his shoes and socks back on him then I have to put his jacket on him. Then when we get back into the car and I am struggling with my bags, my purse and a toddler who will wiggle, plank and twist in order to try and get out of being strapped in. I swear I break a sweat putting him in his seat. If you add rain or snow into the equation and this already hectic pit stop has turned into pure hell!
Once we make it into the store I always feel like I am in a rush to get what I need and get out. I think it is worst during the work week because we are already so limited on the time we have together after work. We typically arrive home between 5:45 and 6pm, but add in a quick trip to Walgreen's and we are not home until 6:30 at the earliest.
Needless to say I have developed a great appreciation for the drive-thru and it is not because I am lazy. I really believe more places should have drive-thrus. I LOVE that I can go to Starbucks and get my skinny mocha without leaving my car. We have a grocery store that offers Vallet Grocery Shopping for a $5 fee which I totally think is worth it. I've used it a few times and I can place my order online, drive right up to the store and then pay for my order while they load it into my car. GENIUS!
Now if there were only a way to get more restaurants, drug stores and stores like Target and TJ Maxx to catch on life would be perfect! How nice would it be to be able to go through a drive-thru to quickly pick up milk and deodorant rather than hulling your kid(s) out of the car? I know it's not really practical, but a girl can dream can't she?